Competency Management is an investment in the development of your employees and the long-term success of your organization. Understanding the individuals that you have working for you, their strengths, weaknesses, and areas where they can best grow and develop to best serve the company will go a long way in creating a workplace that is not only productive, but a place where people want to work. BullseyeEngagement can provide customers with a general competency library, a third-party competency library, or even a competency library developed by our customer! With our Competency Management software, managers and decision makers can ensure their employees have the essential competencies they need to do their jobs well now and provide targeted development actions to fill any skill gaps.
---
---
---
Key Features of BullseyeEngagement's Competency Management Software
Competency management is important for any organization to realize the full potential of its workforce. BullseyeEngagement's solutions help optimize your competency management system, allowing you to easily assess, analyze, track, and manage the skills and competencies of your workforce.
---
---
---
Managers can assign learning and development courses from within the module (LMS functionality is required)
It's important to not only assess competencies, but also to provide employees training, support, and experiences to strengthen their skills and fill in any gaps
---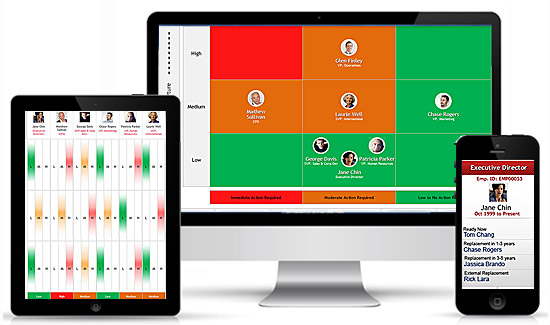 ---
Employees can model their career paths by comparing their own job competencies to the required competencies for other positions
This can be helpful for individuals with a desire to reach a particular position within the organization & would like to know the specific skills & development needed to be offered that role
---
Both employees and managers assess selected competencies, then a gap report displays differences in their respective assessments
This allows you to project skills gaps, make hiring decisions, and perform moves as needed.
---
Supports talent search activities when internal candidates are being sought to fill open positions
Competency management allows you to determine whether there are employees within your organization who have the skills and competencies necessary to fill a vacant position
---
Facilitates succession planning activities by showing bench strength of the organization
Help ensure that the organization has employees with the competencies needed to manage through the transition of critical roles
---
---
---
How Does Competency Management Affect My Business?
The businesses that focus on building up employees and developing their competencies so that they can step into the next level of responsibility, management, or even ownership one day are the ones with the greater likelihood of success. Through the use of innovative, cutting-edge competency management software, you can not only assess, but identify, areas of need as well as areas of improvement for all individuals within your scope of employment. Whether you have just a few employees or several thousand, BullseyeEngagement's Competency Management Software will give you the competency data you need to realize the full potential of your organization.
---
---
---
Request Your Free Demo
Just like with any of our other cloud-based Human Capital Management software solutions, our friendly (human!) team is happy to provide a free demo of our Competency Management module so that you can learn more about what the solution entails. We can help answer any questions that you may have, show you how all of our products work, and discuss all of the ways that we can help your already successful business reach the next level with the help or our innovative software solutions and team of dedicated experts.
---