Performance reviews on pre-printed checklists from HR are a thing of the past. Modern Performance Appraisals encompass a continuous cycle of goal setting, feedback, coaching, and assessments. Whether you're looking for a modernized approach to Performance Appraisals, or you simply want to automate your existing process, BullseyeEngagement's Performance Appraisals module will take your Performance Appraisals to the next level.
---
---
---
Automating Performance Reviews & 360's
A big step forward in streamlining the process of converting traditional paper evaluation to automated evaluation is to implement the automation process of continuous Performance Appraisals. BullseyeEngagement's point and click performance appraisal process allows managers to document appraisals in a fraction of the time. This means they're more likely to actually complete the reviews and they'll have more time to have meaningful conversations with employees. Digitizing your performance review processes saves a considerable amount of money and personnel hours over time and improves overall employee morale.
---
---
---
Reporting Made Easy
BullseyeEngagement's Performance Appraisals Solution allows you to quickly retrieve actionable insights using high-level dashboards that display not only executive summaries, but also appraisal histories and key metrics with the simple click of a button. That means no more digging for relevant information and comparisons. HR partners and business leaders can easily understand the overall performance of employees within the company as well as what development actions need to be taken to make improvements.
---
---
---
Customizable Criteria and Evaluation Questions
Every organization has its own preferred performance review style, so we make it easy to customize and configure your appraisals to align with company objectives. BullseyeEngagement's intuitive platform makes it easy to define meaningful appraisal criteria and assign weights to each criterion based on your unique and specific organizational objectives.
---
---
---
Performance Review Features
BulleyeEngagement's Performance Appraisal System is created to streamline and automate the performance review process. Its key features are:
---
Wide range of appraisal formats

Standard manager appointed appraisals
Self appointed appraisals for growth and development
Team-centric appraisals
360
On-demand appraisals as needed by management or requested ad-hoc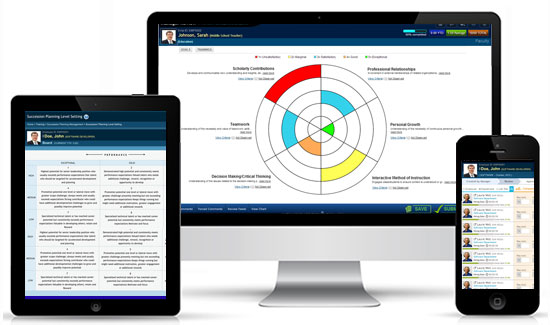 Schedule reviews or initiate reviews ad-hoc
Configurable email notification system reminds employees and managers of appraisal due dates, completed reviews, and past due reminders
Fully configurable appraisal criteria and choice of rating or no-rating scales
---
---